Entries Now Open for the Digital Workplace of the Year Awards 2018!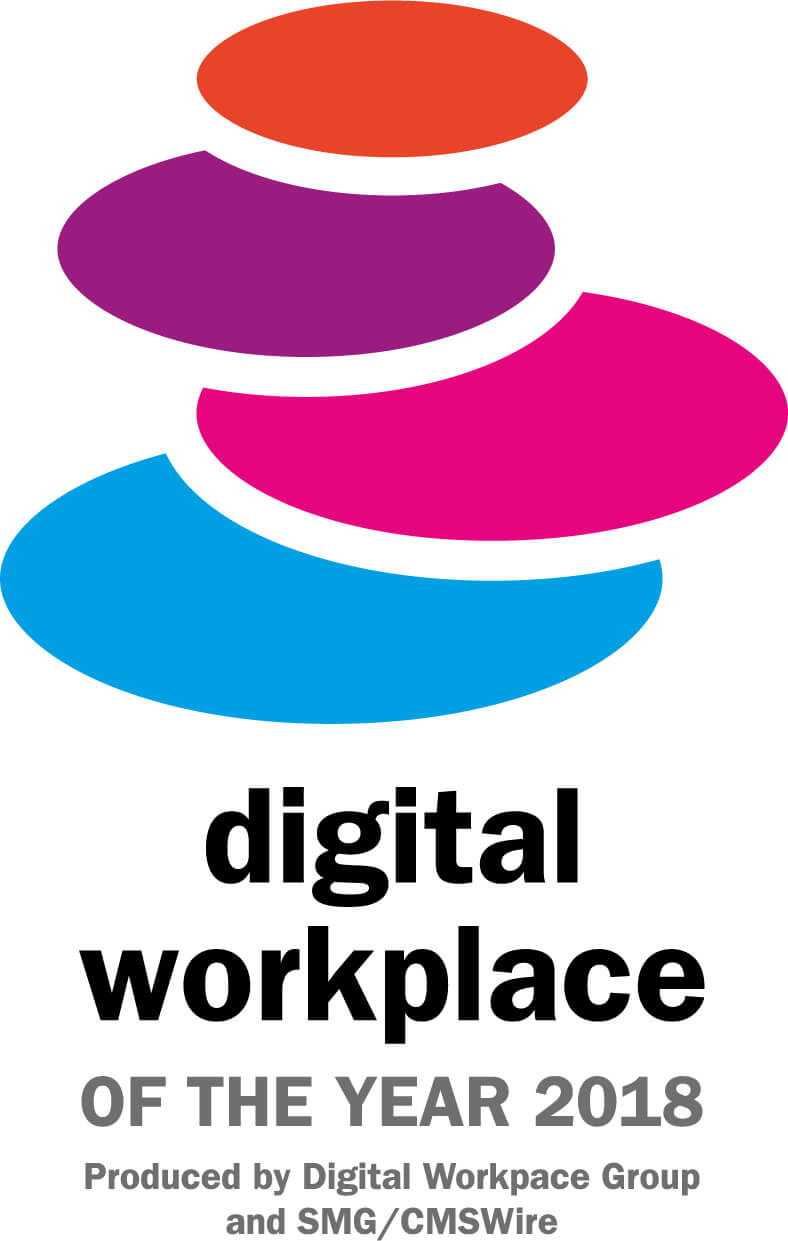 As part of Digital Workplace Experience (DWX) 2018, we are thrilled to announce the call for entries for the 2018 Digital Workplace of the Year Awards.
The Digital Workplace of the Year Awards, produced by Digital Workplace Group and Simpler Media Group, publisher of CMSWire, celebrate those organizations and practitioners who have excelled at creating well-executed, high-performing digital workplace environments.
Submitting an entry will give you and your organization the opportunity to share your digital workplace achievements with peers and to gain global, industry recognition!
The Awards celebrate exceptional work undertaken by both organizations and individuals. The categories are:
Digital Workplace of the Year 2018 (awarded to an organization)
Digital Workplace Leader of the Year 2018 (awarded to an individual)
And this year we have streamlined the process, allowing you to save your entry and return to it at a later date for completion.
We will announce all winners at Digital Workplace Experience 2018 (June 18–20, 2018 in Chicago).
The judging panel will be announced shortly.
The deadline to submit your entry is midnight (GMT) on May 11, 2018.
What We're Looking For
The entry and judgment criteria for these global awards are underpinned by the collective knowledge and experience of DWG research, benchmarking and expertise, plus CMSWire's extensive industry insights.
Before you enter your organization or nominate an individual, please take note of the following:
Eligibility criteria and entry requirements
Don't feel you need to be perfect to enter!
All organizations entering the Digital Workplace of the Year category must have at least 1,000 employees
No consultants or vendors can submit an entry, unless on behalf of a client organization
Incomplete entries cannot be accepted
The submission deadline is midnight (GMT) on May 11, 2018
We may contact you for clarification when reviewing submitted entries
Winners will be contacted by June 12, 2018
We will not disclose names of non-winners
By entering, you give DWG and Simpler Media Group full permission to use your winning entry in promotions, publications and presentations. Winners will have the opportunity to review and sign-off on all such public media productions before publication.
Digital Workplace Leader of Year 2017
Winner
Digital Workplace of the Year 2017Reading Cassady's nomination for this award was like perusing the checklist for the ideal digital workplace leader. A hard-to-fault entry that impressed the judges on all criteria: from his tangible achievements within BNY Mellon as its Head of Digital Workplace, through to industry accolades such as topping DWG's Digital Workplace Maturity leaderboard.
Digital Workplace of Year 2017
Winner
Strong performance across all the criteria for the award made BNY Mellon's digital workplace a clear winner in the 2017 Awards. It was hard to fault the ambitious, business-focused strategy and the accompanying robust governance framework with its clear roles, groups and responsibilities. Their approach to user engagement also made an impression, with a range of approaches employed to ensure the user voice is at the heart of digital workplace developments.
Runner-up
BNY Mellon may have pipped them to the post for the Winner spot, but the Verizon entry nevertheless stood out. Not surprising, given that they managed to put a convincing dollar value on savings due to the intranet! The judges were universally impressed with the work done on demonstrating benefits and impact. They also noted some powerful personalization features, including contextual "smartboxes" in the search tool.
Runner-up
Vodafone
Based on evaluation from one of Digital Workplace Group's benchmarkers, the Vodafone entry stood out for its broad, ambitious strategy, strong business case and comprehensive governance. This entry shone as a digital workplace built on solid foundations. Vodafone scored well above average on the business case and the judges were most impressed by the clear business rationale, employee-focus and impressive strategic-level governance.
If you have any questions, please contact us at: [email protected]